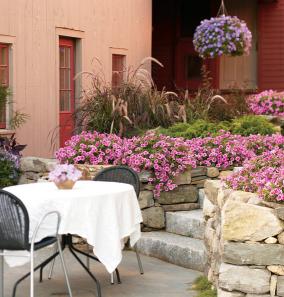 Ask the experts! 90% of our staff has at least 30 years in plant business!
Welcome to our Web-Store.
Our Garden center has been a fixture on the shoreline for years!
NEW PERMANENT STORE NOW OPEN AT 715 BOSTON POST RD/GUILFORD....JUST 288 STEPS FROM THE OLD/FONICELLOS
NEW! MY YARD SECTION GIVES YOU MONTHLY TIPS ON YARD CHORES!
Our Garden Center at Circle is closed..(Hockings/Circle Country Gardens) in North Madison
JUNE/JULY HOURS: Mon.-Fri. 8 am- 6 pm. Sat 8 am to 5 pm.
Sun 9am to 5pm. (JULY 4TH: 9-1)

TO LEARN MORE PLEASE VISIT THE POLLINATOR PARTNERSHIP WEB-SITE.
PRIVACY/SECURITY POLICY: Your payment and personal information is always safe. Our Secure Sockets Layer (SSL) software is the industry standard and among the best software available today for secure commerce transactions. It encrypts all of your personal information, including credit card number, name, and address, so that it cannot be read over the internet. We do not ever maintain any personal information like social security numbers or credit card numbers. We do not sell any information to anyone. We use your name and address to send you offers from us ONLY. This information is not shared and is kept on a computer without internet access.
*
*

***IMPORTANT DELIVERY POLICY*****NOTE

: delivery/dumping location in the comments section of checkout form. When ordered on-line, expect 1 to 2 1/2 days for delivery. (We will try sooner if possible, or call store) There is no return, exchanges, or refunds once an order is placed. But you may delay order for future if needed. All cancelled orders will be subject to $25 charge. If a tarp or marker is not there when we get there, we will put in most logical location. DELIVERIES DONE 7 DAYS A WEEK! (Seasonal) If you request a call first: We will call before leaving the yard...BUT we will not wait for an answer. THE TRUCK WILL COME EVEN IF NO ANSWER.(all adjustments are subject to any fees paid, including credit card processing fees for charges and returns)
RETURN POLICY. We only issue store credit for accepted returned merchandise. All returns must be within 7 days of purchase, be in original packing, with original cash register receipt and are subject to a 10% restocking charge. No returns or exchanges on any storm goods or any sale or reduced priced items. Any holiday item can not be returned after the holiday. No returns or exchanges on any live plant. All shrubs, trees and perennials are guaranteed for 90 days as long as they were properly cared for and were planted as directed.